Australia diary
7 - Mount Field & west coast
March 31, 2003
Argh. Wake up at 6:30. We have a new guide, Paul, and there are only 5 of us in the bus. We leave Hobart under the rain.
We head to Mount Field National Park, Fred tries playing didgeridoo in the bus while we drive.


In the park, we walk among very tall trees (big flowering gum trees that can get more than 90 m tall), this humid forest is really superb. We get to see two cascades, Horseshoe Falls and Russel Falls.
After breakfast at the restaurant situated at the entrance of the park, we go on driving towards Lake Saint Clair. We eat on the shore, have a walk close to the water, then drive again towards parks on the west coast.


We stop two times to walk, first towards a viewpoint in the middle of mountain chains, Donaghy's hill, then to a big cascade, Nelson falls.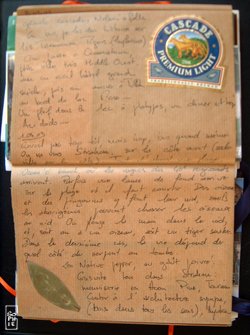 In the bus, I read stories about the Tasmanian tigers, thylacines, a bouncing marsupial carnivore as big as a dog that was totally wiped out by farmers and hunters… what a loss.
We go through Queenstown, a small city with a feeling of the middle west (Nothing Gulch for Lucky Luke readers), with an old grand hotel, then we get to Tullah, close to lake Rosebery. A swim in the lake which shelters platypuses (we don't meet any), diner and off to sleep.
April 1, 2003
We don't wake up too early, but jump quickly in the bus, to head towards Strahan, on the west coast (about the only town on this coast).

First we get to a beach, Ocean's beach, where the roaring forties waves reach land. Sometimes a much bigger wave than the others, and you're bound not to run fast enough.
Birds and penguins nest on the shore, only aboriginals can hunt in birds nests (or rather burrows). You put your hand in the nest and feel for what's inside, and either get a bird or a tiger snake. In the second case, your life depends on which extremity of the snake you touched.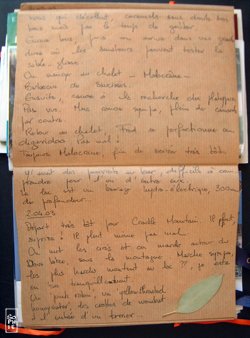 Then we get to Strahan, there are shops selling Huon pine wood objects, a tourism center with a nice architecture (weather-worn wooden beams pointing in various directions), seaplanes taking off, toffees, probably very good, but we don't have time to taste.
Back on the bus, then we get to a big sand dune where those who want can get a taste of sand-gliding.

We get back to the chalet on the shore of lake Rosebery, I've got a headache, we have a barbecue outside and enjoy grilled sausages, then we get canoe and pretend to look out for platypuses (no chance of seeing them during the day), we enjoy the canoeing, there are lots of ducks to see.
Back to the chalet, Fred practices some more didgeridoo, he's getting the hang of it, not bad!
As the headache lingers, we end the evening pretty early. There were rather drunk guys at the bar, one of them was really difficult to understand. They told us the lake is a hydro-electric dam, 300 m deep in some places.