Australia diary
7 - Mount Field and west coast
8 - Cradle Mountain & Devonport
April 2, 2003
Very early start towards Cradle Mountain. Surprise, it's raining! It's even raining rather heavily.

We put raincoats on and walk around Dove lake, under the mountain. Very nice walk, the more vertically-inclined go up to see lake Wilks, I think, I stay at the bottom and quietly walk alone, which allows me to meet a pink robin, a small passerine similar to a robin but its breast is a luminous pink, and also a yellow-throated honeyeater, wombat droppings at the entrance of a burrow…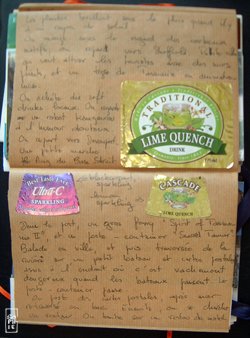 Raindrops hang from the leaves and the plants glisten when there is a ray of sunlight.
We eat while native ravens (currawongs) keep an eye on us, we start again, crossing nice Tasmanian landscapes towards Sheffield. Small city trying to attract tourists with painted murals, and an animatronics Tasmanian tiger. The weather is sunny and gorgeous.

We buy locally produced soft drinks, have a look at a kangaroo robot with a dubious sense of humor, and go on towards Devonport. A small walk along the coast opening on the Bass strait.


In the harbour, a big "Spirit of Tasmania II" ferry and a container ship, "Searoad Tamar". A walk around the city, then we cross the river in a small boat and write postcards while sitting in that place by the river that is so dangerous when the ships pass by (or so a sign says). The container ship passes, we have no trouble avoiding submersion.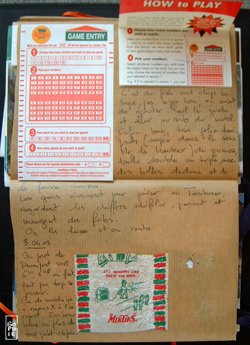 We mail the postcards, after crossing the river back on the river ferry. Then, we look for a restaurant. We end up in a motel restaurant. It's basic fish and chips, not especially good, we should have listened to our guide, Paul, and gone to the restaurant in the motel we are staying at.
Well, then, very nice guinness half-pint (cut in vertical), double or triple size, with bubbles inside and synthetic foam, decorating the bar.
People get there to play Taskeno, watching the numbers scroll by, betting and eating fries. It looks like an important social event.
We leave them playing and get back to the motel.