Down the
Élorn

river at sunrise
Descente de l'
Élorn

au lever du soleil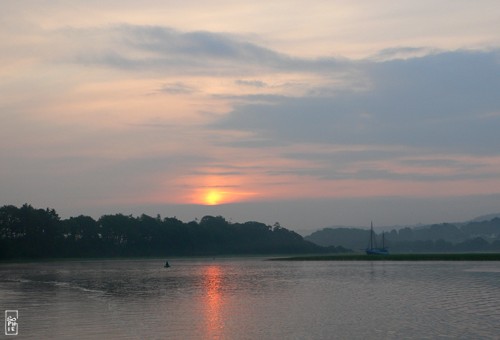 Going downstream also has to be timed precisely at high tide, even more so as, when the tide starts going down, the flow of the river accelerates the process. In Landerneau, a drawbridge had to be raised to let us pass, but was slightly late, and both Notre-Dame de Rumengol and we ran aground (well, "a-mud") in a not-so-well marked channel. We were lucky to be helped by a boat from Camaret and escaped, but the bigger Notre-Dame de Rumengol didn't. We left her forlorn, awaiting the next tide as the sun was rising.
La descente de la rivière doit également être calée précisément sur la marée, d'autant plus que quand la mer commence à descendre, le courant de la rivière accélère le processus. À Landerneau, un pont-levant devait être levé pour nous laisser passer, et était un peu en retard, et Notre-Dame de Rumengol et nous avons échoué sur un banc de vase dans un chenal pas très bien signalé. Nous avons eu la chance d'avoir l'aide d'un bateau Camaretois pour nous en sortir, mais Notre-Dame de Rumengol, plus lourde, ne s'en est pas sortie. Nous l'avons laissée, esseulée, à attendre la marée suivante alors que le soleil se levait.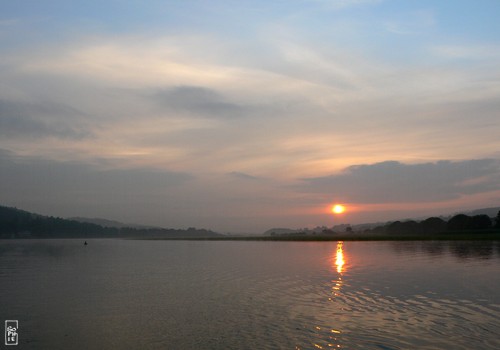 Desktop wallpaper—Fond d'écran :
320×480480×320640×960960×640640×1136240×320240×400480×854540×960800×480480×800720×12801024×10242048×2048640×480800×6001024×7681152×8641280×9601280×10241600×12001024×6001280×7681280×8001366×7681440×9001680×10501920×10801920×12002560×14402560×16002880×18002048×7682560×10243200×1200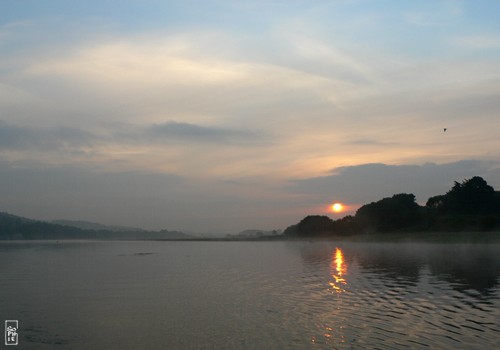 Going down slowly on the misty river, watching the sun rise, makes for a very pleasant journey.
C'était vraiment un moment très agréable de descendre lentement la rivière en regardant le soleil se lever.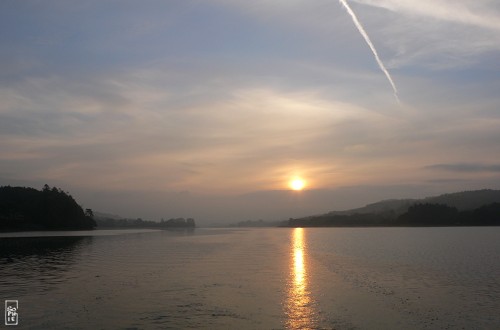 Desktop wallpaper—Fond d'écran :
320×480480×320640×960960×640640×1136240×320240×400480×854540×960800×480480×800720×12801024×10242048×2048640×480800×6001024×7681152×8641280×9601280×10241600×12001024×6001280×7681280×8001366×7681440×9001680×10501920×10801920×12002560×14402560×16002880×18002048×7682560×10243200×1200
Élorn, Finistère, France—07/2011