La Mouette

sloop
Sloop La Mouette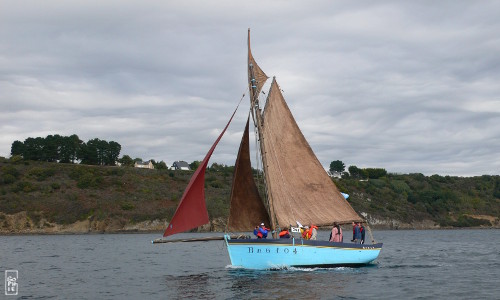 Each year we sail for the Aramis cruise. All boat owners who wish to offer to sail with disabled or disadvantaged people. Most of the boats are modern sailboats, but some old gaffers take part too. So we met La Mouette, another scallops dredging sloop. There were basically two models, a big one about 11 m long (that's Bergère de Domrémy's size), and a smaller one about 8 m long. La Mouette, from Le Conquet, is the smaller model. I love the washed-out colour of her sails.
Chaque année nous naviguons pour la croisière Aramis. Tous les propriétaires de bateaux qui le désirent offrent des places à des personnes handicapées ou désavantagées. La plupart des bateaux sont des voiliers modernes, mais quelques vieux gréements y prennent aussi part. Et donc nous rencontrons La Mouette, un autre sloop coquillier. Il y avait grosso modo deux modèles, un grand d'environ 11 m de long (c'est la taille de la Bergère de Domrémy), et un petit d'environ 8 m de long. La Mouette, du Conquet, est un petit modèle. J'aime la couleur usée de ses voiles.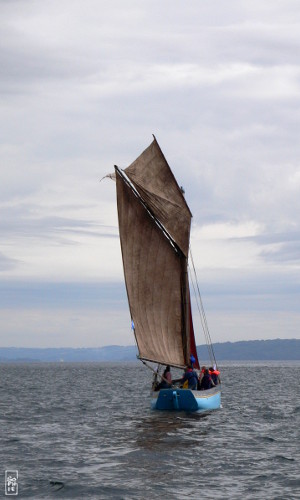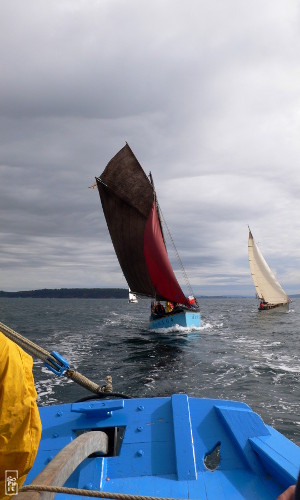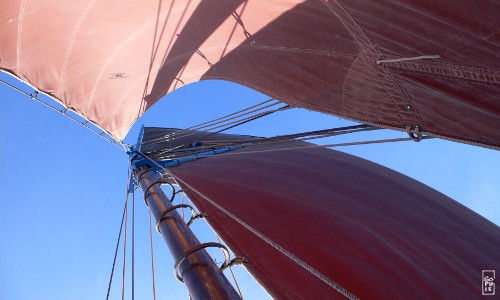 The kids we had onboard loved the view you have when you lie down towards the bow of Bergère de Domrémy.
Les enfants que nous avions à bord ont bien aimé la vue qu'on a quand on s'allonge près de la proue de la Bergère de Domrémy.
Bergère de Domrémy website - La Mouette website.
Site de la Bergère de Domrémy - Site de La Mouette.
Rade de Brest, Finistère, France—09/2011