François-Monique

in

Brest

harbour
François-Monique

en rade de Brest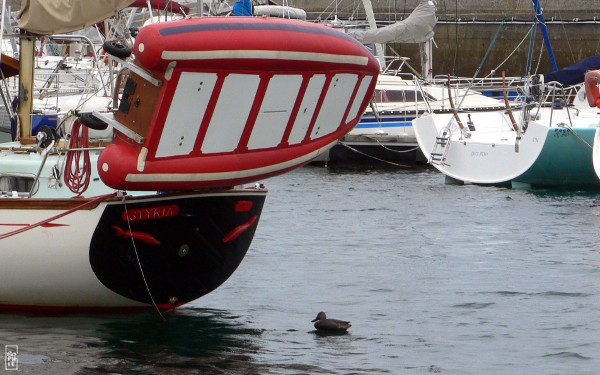 Aboard Marie-Fernand in Camaret harbour, we get ready for the last day of our trip with François-Monique to Brest. The previous day we had been somewhat alarmed by a boat sailing south along us, which seemed to "tow" something behind it as the deck was deserted. Had the sailor fallen in the water, hanging to a line and trying to get back? After a long observation, it didn't seem so. The next morning we saw the boat had also moored in Camaret, and discovered it was towing a plastic duck. No comments!
À bord de Marie-Fernand dans le port de Camaret, nous nous préparons au dernier jour de notre voyage avec le François-Monique vers Brest. Le jour précédent nous nous étions inquiétés d'un bateau qui naviguait vers le sud comme nous, en ayant l'air de « remorquer » quelque chose. Est-ce que le marin était tombé à l'eau, accroché à un boute en essayant de remonter dans son bateau ? Après une longue observation, ça n'avait pas l'air d'être le cas. Le matin suivant nous avons vu que le bateau était aussi au port de Camaret, et avons découvert qu'il remorquait un canard en plastique. Sans commentaire !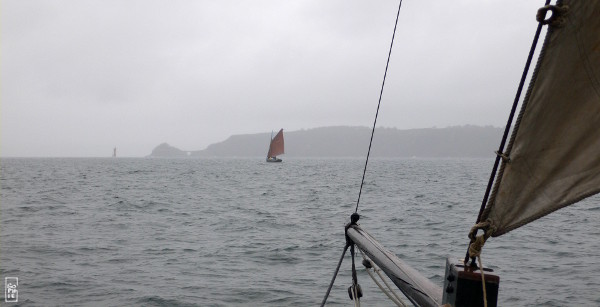 The weather is rather bad and we have to change our plans: other scallops dredging sloops were supposed to come out of the Goulet to welcome François-Monique in its first visit to Brest harbour in a few decades, but they'll have to stay inside the harbour. We wait a little for the wind to abate, then we head towards the Capucins fort which marks the entrance of the Goulet.
Le temps est plutôt mauvais et nous devons changer nos plans : d'autres coquilliers devaient sortir du Goulet pour accueillir François-Monique lors de sa première entrée en rade de Brest depuis des décennies, mais ils doivent rester en rade. Nous attendons un peu que le vent se calme, puis nous allons vers le fort des Capucins qui marque l'entrée du Goulet.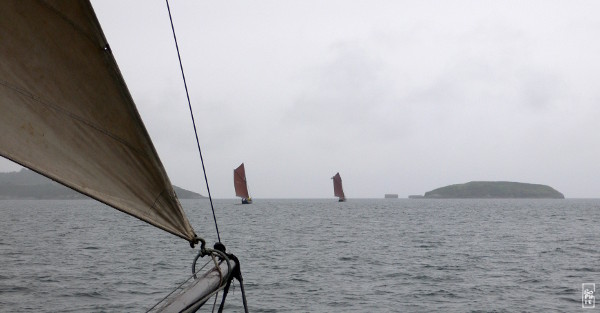 We meet Général Leclerc and head towards Ronde (round) island.
Nous rencontrons le Général Leclerc et nous dirigeons vers l'île Ronde.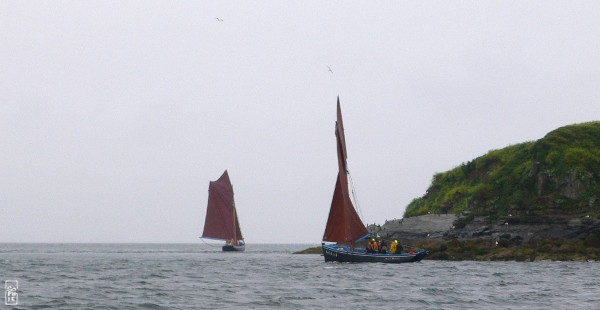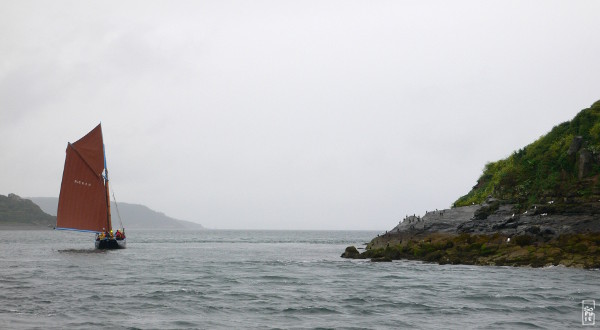 Then François-Monique goes along the concrete dolphins called ducs d'albe.
Et puis François-Monique passe le long des ducs d'albe en béton.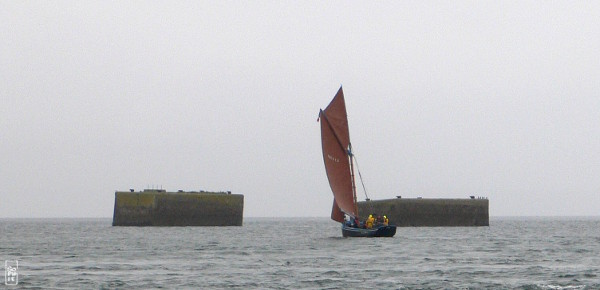 Marie-Fernand website – François Monique website.
Site de Marie-Fernand – Site de François Monique.
Brest, Finistère, France—07/2012