Gathering seaweed
Ramassage du goémon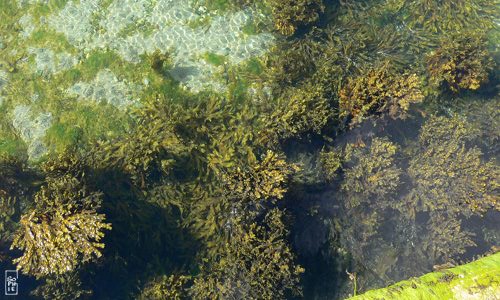 The waters around Quéménès, apart from being crystal clear, are also very rich in brown alga.
L'eau autour de Quéménès, en plus de sa clarté cristalline, est aussi très riche en goémon.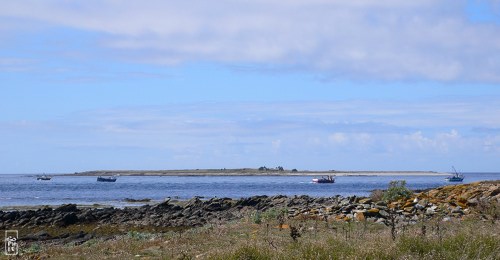 Several ships gather seaweed. They put anchor, and they have two articulated rotating booms called scoubidou they extend and lower in the water. They rotate them to tangle the seaweed, retract them above their hold, and rotate them in the opposite way to let the seaweed fall.
Plusieurs bateaux cueillent le goémon. Ils mouillent, et ont deux perches articulées et rotatives qu'on appelle scoubidous et qu'ils déploient et abaissent dans l'eau. Ils les font tourner pour emmêler les algues, le remontent au-dessus de leur cale, et les font tourner dans le sens opposé pour faire tomber les algues.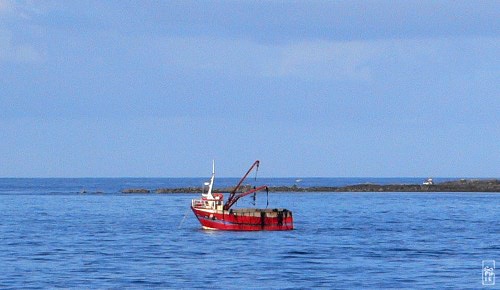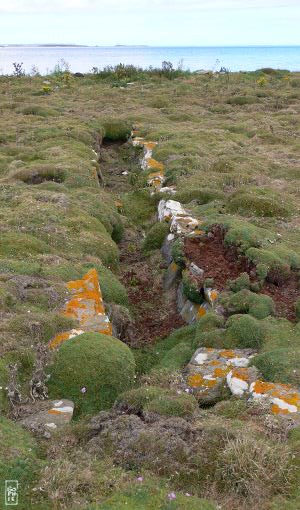 On the island, there are about 15 seaweed ovens. They are long trenches paved with flat stones, in which the seaweed was piled, then set on fire to extract caustic soda, which was sent to plants for obtain iodine.
Sur l'île, il y a environ 15 fours à goémon. Ce sont de longues tranchées garnies de pierres plates, dans lesquelles on empilait les algues, qu'on faisait brûler pour extraire de la soude, qui était ensuite envoyée dans des usines pour obtenir de l'iode.
Île de Quéménès website
Site de l'Île de Quéménès
Mer d'Iroise, France—08/2010