Sailing in
Douarnenez

bay—2
Navigation en baie de Douarnenez—2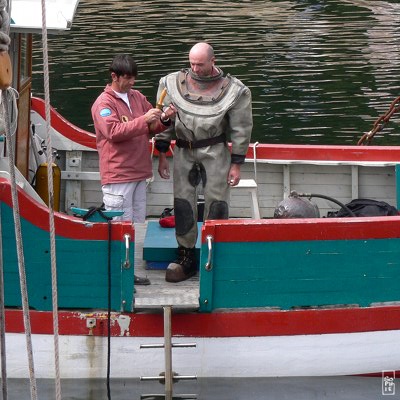 We start by watching a demonstration of hard-hat diving. They detail the equipment of the diver, who ends up with about 70 kilos on his collar, chest and of course feet. Then we go sailing in the bay.
Nous commençons par regarder une démonstration de scaphandriers pieds lourds. Ils détaillent l'équipement du plongeur, qui finit par porter 70 kilos sur le cou, la poitrine et bien sûr les pieds. Puis nous partons naviguer en baie.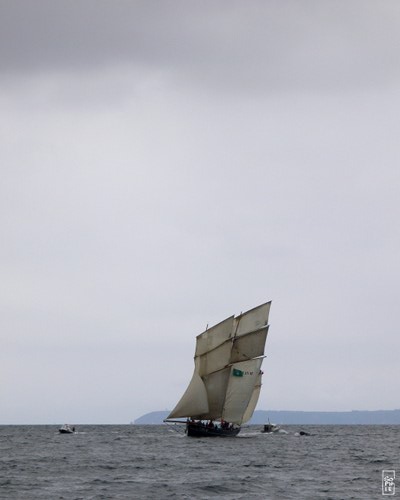 La Cancalaise is also sailing, with the Chèvre cape in the background.
La Cancalaise est aussi en train de naviguer, avec le cap de la Chèvre en arrière-plan.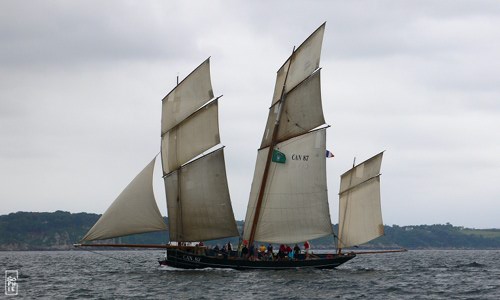 She is a bisquine, a fishing boat from the Mont Saint-Michel bay area, rebuilt in 1987, I saw her several times before, like in Brest 2008. I love the silhouettes of the bisquines.
C'est une bisquine, un bateau de pêche de la baie du Mont Saint-Michel, reconstruite en 1987, je l'ai déjà vue plusieurs fois, comme à Brest 2008. J'adore la silhouette des bisquines.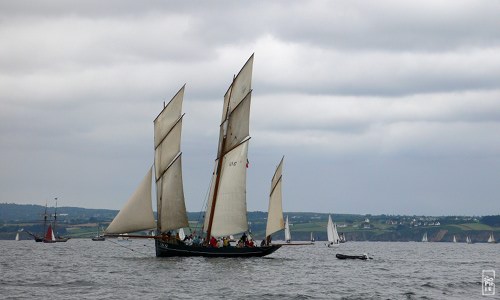 Here she is with Krog e barz, a replica of spiny lobster fishing boat from the Morbihan gulf, built in 1992, with nice green and yellow jibs.
La voilà avec Krog e barz, une réplique de langoustier du golfe du Morbihan, construite en 1992, avec de jolis focs vert et jaune.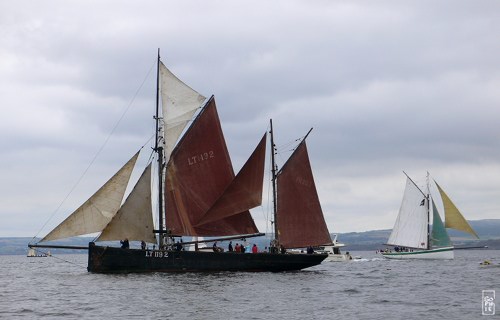 Above, Krog e barz sails close to Keewaydin, an English gaff cutter built in 1913, which took part in both world wars, and circumnavigated the globe in the Whitbread race in 1972.
Ci-dessus, Krog e barz navigue près de Keewaydin, un cotre aurique anglais construit en 1913, qui a pris part aux deux guerres mondiales et a fait le tour du monde lors de la Whitbread en 1972.
Lola of Skagen website - La Cancalaise website - Krog e barz website
Site de Lola of Skagen - Site de La Cancalaise - Site de Krog e barz
Douarnenez, Finistère, France—07/2010