Sailing in
Douarnenez

bay—3
Navigation en baie de Douarnenez—3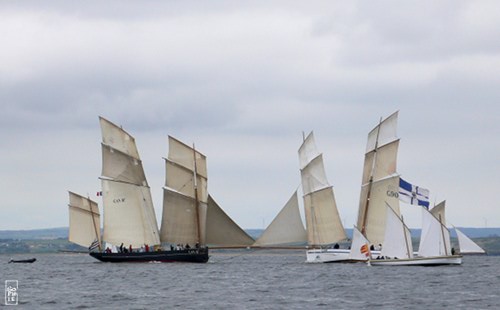 As we sail, we enjoy the very nice view of the two bisquines, La Cancalaise & La Granvillaise, "face to face".
En naviguant, nous avons la chance de voir les deux bisquines, La Cancalaise & La Granvillaise, "nez à nez".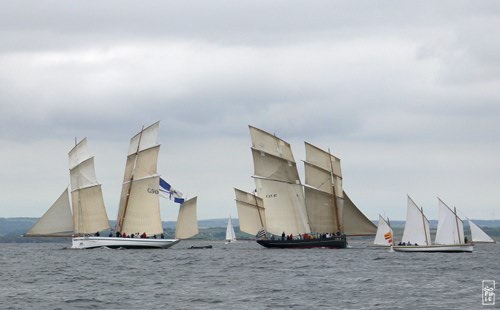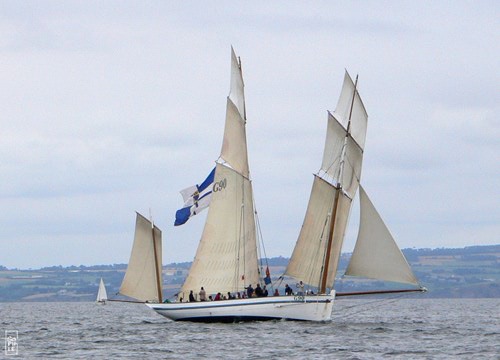 Desktop wallpaper—Fond d'écran :
320×480480×320640×960960×640640×1136240×320240×400480×854540×960800×480480×800720×12801024×1024 640×480800×6001024×7681152×8641280×9601280×10241600×12001024×6001280×7681280×8001366×7681440×9001680×10501920×10801920×12002560×14402560×16002880×18002048×7682560×1024
La Granvillaise was built in 1990, there are small differences between the two boats but they are very close and regularly race against each other.
La Granvillaise a été construite en 1990, il y a de petites différences entre les deux bateaux mais ils sont très proches et ils font régulièrement des régates ensemble.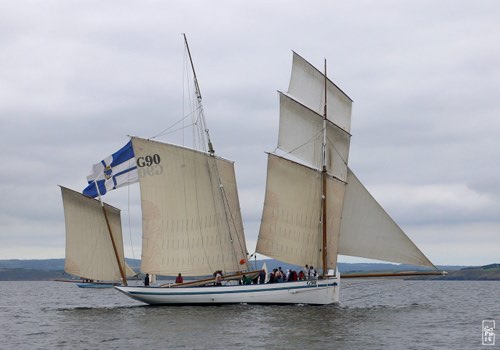 I've sailed twice on La Granvillaise, between Granville and Chausey island, and have got very good memories of both trips.
J'ai navigué deux fois sur La Granvillaise, entre Granville et l'île de Chausey, et j'ai de très bon souvenirs des deux voyages.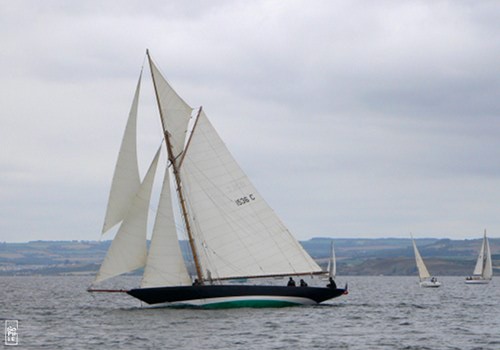 Pen Duick is also sailing in the bay, she is a superb yacht. It was built in 1898 and later bought by Éric Tabarly's father, who taught his son how to sail on it. Later, he couldn't take care of her, tried unsuccessfully to sell her, then gave her to his son. Unable to save its wooden hull, Éric Tabarly molded it in polyester to give it a second life.
Pen Duick navigue également dans la baie, c'est un yacht superbe. Elle a été construite en 1898 puis achetée par le père d'Éric Tabarly, qui a appris à naviguer à son fils dessus. Plus tard, incapable de l'entretenir, il a essayé de la vendre, puis l'a donnée à son fils. Comme il ne pouvait pas sauver sa coque en bois, Éric Tabarly l'a moulée en polyester pour lui donner une deuxième vie.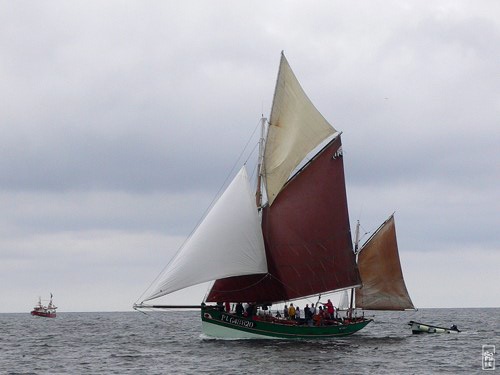 Above is the Sant C'hireg, another replica of spiny lobster fishing boat, this time from Perros-Guirec.
We get back to the Port-Rhu harbour to enjoy the ships, including the Belem, lit-up under the rain.
Ci-dessus le Sant C'hireg, une autre réplique de langoustier, cette fois-ci de Perros-Guirec.
Nous rentrons au Port-Rhu pour profiter de la vue des bateaux, dont le Belem, illuminés sous la pluie.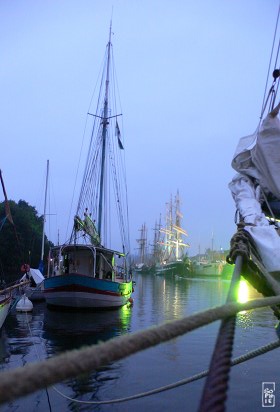 Lola of Skagen website - La Cancalaise website - La Granvillaise website
Site de Lola of Skagen - Site de La Cancalaise - Site de La Granvillaise
Douarnenez, Finistère, France—07/2010