Sailing in
Douarnenez

bay—4
Navigation en baie de Douarnenez—4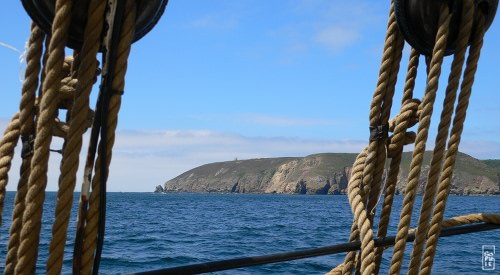 We sail towards the Crozon peninsula shore, ending with the Chèvre cape. This cape closes the entrance to Douarnenez bay to the north. As in Morgat, the cliffs are high and the rock is eroded by the sea, creating marine caves.
Nous naviguons vers la côte de la presqu'île de Crozon, qui se termine au cap de la Chèvre. Ce cap ferme l'entrée de la baie de Douarnenez au nord. Comme à Morgat, les falaises sont hautes et les rochers érodés par la mer, ce qui crée des grottes marines.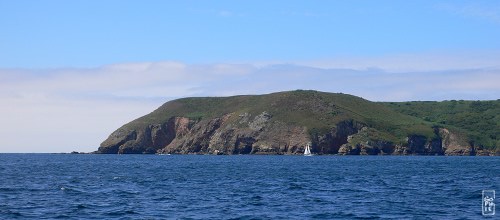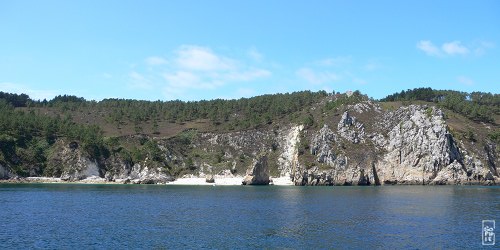 We moor in the St Norgard cove, its beach is inaccessible by land, with a big rock jutting in the middle. Time to enjoy the gorgeous weather and transparent water, swimming from Lola to the shore! Even people who forgot their swimsuits can't resist a dive in.
Nous mouillons dans l'anse de St Norgard, sa plage est inaccessible par la terre, avec un gros rocher au milieu. C'est le moment de profiter du temps superbe et de l'eau transparente, en nageant de Lola à la côte ! Même ceux qui ont oublié leur maillot de bain ne peuvent pas résister à un plongeon.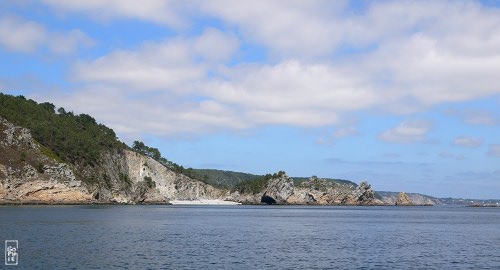 A little further away, the St Hernot beach and head are accessible by land after a rather steep walk, they are also a very pleasant place to spend time in.
Un peu plus loin, la plage et la pointe de St Hernot sont accessibles par la terre par un sentier un peu escarpé, c'est aussi un superbe endroit où passer un peu de temps.
Lola of Skagen website
Site de Lola of Skagen
Douarnenez, Finistère, France—07/2010