Australia diary
4 - Penrith & Blue Mountains
June 12, 1998

A walk in Paddington, then to Bondi Junction (a big public transportation node between downtown-bound trains and beaches-bound buses). Meal in a Japanese restaurant, more shopping. Then a bus to Bondi beach. I gather a little white sand, watch the waves, the sun go down, then head back home.
Members of the family pick us up, now to Penrith (northwest of Sydney), starting with a Mac Donald's, browse through French photos and calvados tasting.
June 13, 1998

Early morning visit to the supermarket, a "French" breakfast, then off to Featherdale Wildlife park. At the entrance, a man holds a joey in a bag. We enter the park, where some animals are free to roam among the visitors. My first encounter with the famous Australian animals, and some I hadn't heard of. The hop of the kangaroo is very surprising and great fun to watch.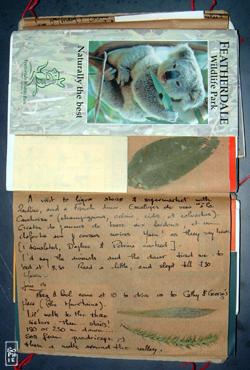 Kangaroos! Koalas! Emus! Echidnas! Kookaburras! Goannas! Wombat! Tasmanian devils! Wallabies!

A visit to a liquor store and supermarket, and a French diner (most restaurants are BYO - Bring Your Own - meaning you have to buy the alcohol you'll drink with your meal, only the licensed or fully licensed restaurants will sell you the wine to go with your meal, hence the liquor stores where you go before going to the restaurant or going for a diner at friends'). "Escalopes de veau à la Cauchoise" (veal chops with mushroom, sour cream, cider and calvados), oven-baked potatoes with bacon bits, and a black cherry cake. Yum!, as they say here. (I translated, my friend and her mum cooked)
I'd say the visit to the animals and the diner tired me: to bed at 8:30. Read a little, and sleep till 7:30. Yawn…
June 14, 1998
Friends come at 10:00 to drive us to visit people who live in the Blue Mountains, the big range west of Sydney.
We head to Katoomba, little walk to the three sisters. Then… the giant staircase! 250 m down… I get an SOS from my quadriceps. After the last step, my knees drop for one more even if the ground is flat, they are on automatic staircase mode.
We go on with a walk around the valley, I gather gum tree leaves.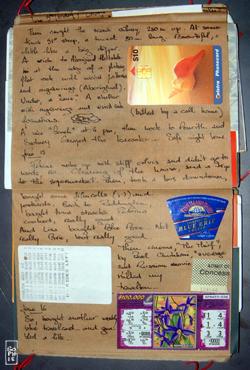 We then catch the scenic railway, 415 m up. At some point it tilts to 51°, and crosses a 80 m long tunnel. It's fun, a little like a big dipper.
We drive to Aboriginal Flattable at the end of a plateau, a flat rock with weird Aboriginal patterns and engravings. Under, there's a "cave" or rock outcrop. A shelter with engravings and weird intertwined rock formations.
We have a nice "lunch" at 4:00PM, then get back to Penrith and Sydney. I get away from the karaoke… and have a quiet evening home.
June 15, 1998
We wake up with stiff calves, my friend skips work, so… Cleaning of the house, and a trip to the supermarket. Then, I take a bus downtown, buy some filmrolls ;-) and postcards. I get back to Paddington, buying two tuna steaks on the way, my host cooks them, it's really good. And one of the housemates bought some Blue Brie, from the King Island dairy… Not really Brie, but really good.
Then cinema, The Thief, from Pavel Chukhrai, an average sad Russian movie, in Russian, with English subtitles. I kill my travelten card on the way home…