News archive
You can also check the latest news.
2013
April '13
March '13
February '13
January '13
2012
December '12
November '12
October '12
September '12
August '12
July '12
June '12
April '12
March '12
Photos of a trip around Brittany aboard

Lola of Skagen

–1: starting from

Lorient

, sailing along the

Glénan

islands.
February '12
January '12
2011
December '11
November '11
October '11
September '11
August '11
July '11
June '11
May '11
March '11
February '11
January '11
2010
December '10
November '10
Photos of a cruise from

Oléron

to

Douarnenez

9: arrival in

Douarnenez

.
October '10
September '10
August '10
July '10
June '10
February '10
January '10
2009
December '09
November '09
October '09
September '09
August '09
July '09
June '09
May '09
April '09
March '09
2008
December '08
October '08
September '08
August '08
July '08
June '08
May '08
February '08
January '08
2007
December '07
November '07
October '07
September '07
August '07
July '07
June '07
May '07
April '07
March '07
February '07
January '07
2006
December '06
November '06
October '06
September '06
August '06
July '06
June '06
May '06
April '06
The big portal-crane and the castle of Brest.
Not really a redesign of the site, just an incremental evolution…
March '06
February '06
January '06
2005
December '05
The last few days this site has moved (a change in the hosting provider), I hope this didn't cause trouble. I leave my other sites at Ouvaton, their service is very good, but the many visits (thanks!) required a hosting package with more traffic.
Second page of my Australian travel diary, with stories linked to the Narita page.
A page about Asia, with photos of the Naritasan-Shinjoshi temples.
November '05
October '05
September '05
August '05
July '05
June '05
May '05
April '05
March '05
February '05
January '05
2004
December '04
November '04
October '04
September '04
August '04
July '04
June '04
May '04
April '04
March '04
February '04
2003
December '03
A facade in Copenhagen.
November '03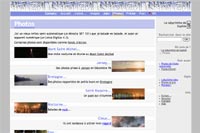 The Blue Maze style of the site evolves.
One more thing in the Jobs and Movies pages.
The first Copenhagen photos.
October '03
A new sunset.
September '03
The St Georges swimming pool in Rennes.
A pillow book.
Two water photos.
A sad girl graph.
August '03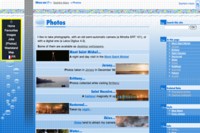 A new style called Dive! for the web site.
The book I'm currently reading, and those I read recently.
A cloud photo, two snowy ones.
My first photos of the M. Chat graffiti.
July '03
A frozen desktop wallpaper.
Other photos of the Horizons building in Rennes.
New Brittany photos, in the pink granite coast page and Saint-Malo night photos in the Emerald Coast page.
June '03
A new photo page, about graffiti.
My CSS Zen Gardensubmission was accepted :)
Orange clouds you can download as a desktop wallpaper.
Perros–Guirec harbour under the clouds.
Misty morning roses photos.
Between September, '98, and May, '03, about 60 000 visits on the home page of the site.
May '03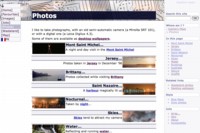 A new look for the whole web site, but you can switch back to the 'original' style if you like it better, and get info about how it's done.
Website screenshots in the jobs page.
New quotations here and there, new links.
Photos of the Menier chocolate factory in Noisiel.
A new Vilaine by night desktop wallpaper, a suggestion from a visitor: please ask for your favourite photos, it doesn't go fast, but in the end it happens.
March '03
Ducey bridge photos.
New architecture images.
February '03
New pages in the Jobs section: a CD-rom about a company's new building, design and urban furniture images.
A new page for the Paris area architecture and buildings, including a gothic facade.
January '03
An "about this site" page.
Photos of the Boulogne-Dover hovercrafts.
2002
December '02
Photos of the Hambye abbey.
November '02
A water elevator in Folkestone.
October '02
A page about the accessibility and help of this site, and the features that go with it.
Photos of Ducey castle.
September '02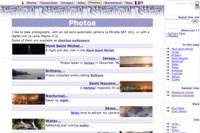 A new design for some of the pages.
Update of the Favourites page, with a page for the links and another for the books, and two new movies.
August '02
Update of the jobs page.
April '02
Photos of a dune in Nature.
New mont Saint-Michel photos.
A set of MacOs X icons with a cat theme.
March '02
New photos of skies with a new desktop wallpaper.
New photos of water and of Rennes by night.
Fred's site has moved to its own location, the Fragmoscaphe (site closed).
February '02
A new page with photos of Kew Garden's glasshouses.
2001
December '01
Two new desktop wallpaper.
New photos of Donges in the Nocturnal page.
New links in the Favourite page.
The snowy photo of the Horizons was selected by the Bretagne.com website for its virtual exhibition "Brittany under the snow". It will remain there until February 2002.
November '01
New photos of the Emerald Coast, with ships from the Cutty Sark race.
A new desktop wallpaper.
October '01
New photos of Rennes and Amiens in the Architecture section.
The web site has moved to Ouvaton, a cooperative hosting service.
I took advantage of that to spend a lot of time brushing up the pages and adding captions to the photos. The site is now using CSS stylesheets for its layout (this redesign will slowly propagate to all the pages).
There's also a desktop wallpaper page allowing quick access to all the photos I've turned into screen backgrounds.
July '01
More sky and sunset photos.
May '01
Kew Gardens' Palm House.
Fred's pages in the Favourites section (deleted).
New photos in the wasteland: Chimney (1 - 2), Awning, Water, Flaked-off concrete and steel, Structures, Long silo, Low angle, Hoppers, General view, Arcades.
A photo of Saint-Nazaire abandoned train station.
More water (tunnel and trees) and nocturnal (opera and Harbour Bridge) photos.
Photos of Uluru and Kata Tjuta.
More sky photos.
An update of the movie discoveries.
April '01
Photos of Kings Canyon.
March '01
Photos from the Blue Mountains.
February '01
Photos from Sydney harbour.
January '01
Photos from Sydney.

2000
December '00
Australian vegetation.

Liens utiles gave this site a Golden Link in December '00
November '00
First photos from Australia, the animals.
The site is split in two, the wasteland has moved.
October '00
Nantes photos in "Architecture".
One more photo in Architecture and Skies and new photos in Water.
September '00
As I'm looking for a job, I've updated the Jobs page.
A site search button.
August '00
Here are the holidays, time to take care of the site:
New photos in Saint-Nazaire and Skies.
I found out that most of the scans I had were quite bad, so I rescanned most of the photos I had added between 1997-1999. Check this out, it's a real improvement!
For those of you with bandwidth, there are more quicktime movies and mpgs: Mon Bestiaire Ordinaire, La Poste: Euro 2002.
New photos in Architecture, Water and Nocturnal.
July '00
A Site map, graphic changes.
Wasteland-related photos.
June '00
More photos of Brittany, sounds in the wasteland.
May '00
Photos of the Emerald Coast, more colour photos in the wasteland.
Water photos.
January '00
Desktop wallpaper from Jersey, Skies and Donges.
Update of the Jobs page.
The first Architecture photos.
A passage hypothesis in the wasteland.
1999
November '99
More Brittany and Jersey photos.
September '99
Some Sky photos, photos of the Caligari scale model.
August '99
My early Nocturnal photos.
Now you can use a form to send me a message.
I've cut the Favourites page, put new links and more movies
July '99
A little bit of cleaning among the links, some were really outdated.
Kazaam! This very page is born.
I've also worked on the navigation among Quicktime VRs.
I added four Quicktime VRs of the wasteland, this could draw attention towards this otherwise "secret" place…
June '99
Passions becomes Photos and includes photos taken in Brittany
May '99
Some photos of Saint-Nazaire harbour.
Small animations in: La Poste, CeeOn, Le Bestiaire
January '99

This site made it to the Wanadoo Top 10 in September 1998.
It was chosen among the 1998 Top 10 sites in January 1999.
1997
May '97
Creation of the site.